Posted: 6/28/2020 | Updated: 7/6/2020 | Results
2020 Camp Week 1 Report:
We have finished the first week of our virtual summer camp and the results are in: camp is still a lot of fun online even without the excitement of dodgeball.
Morning classes were focused and engaging as coaches introduced new concepts, interesting puzzles and in-depth analysis. Coach Nick described the enthusiasm of his class in glowing terms – a sentiment shared by the coaches in other groups – and it was clear in analyzing their tournament games that campers were adapting and improving even throughout the week. In Sean's group Geoffrey and Aiden led the morning puzzles competition but it was Geoffrey who ultimately claimed the best in group prize by beating the coach during an in-class blitz simul. The winners for each group were Robert in Group 1, Geoffrey in Group 2, Dylan in Group 3, Drew in Group 4, AJ & Audrey in Group 5, and Daniel in Group 6.
For the tournament we had four sections divided by level and the coaches were pleased with how seriously the campers took these games. The winners were Sophie in Section 1, Aiden in Section 2, Dylan in Section 3, and Anthony in Section 4. There were three sections for Blitz tournament and the winners were Theo & Anderson in Section 1, Mark & Dylan in Section 2, and Nicholas, Anahit and Sean in Section 3. There were also three sections for the puzzle solving competition where the winners were Sophie & Kirill in Section 1, Dylan & Anthony in Section 2, and Tobby & Sasha in Section 3. Anderson & Mark were the winners in the Simul Survival competition. Surbhi won the most improved prize and Howard won the best effort award.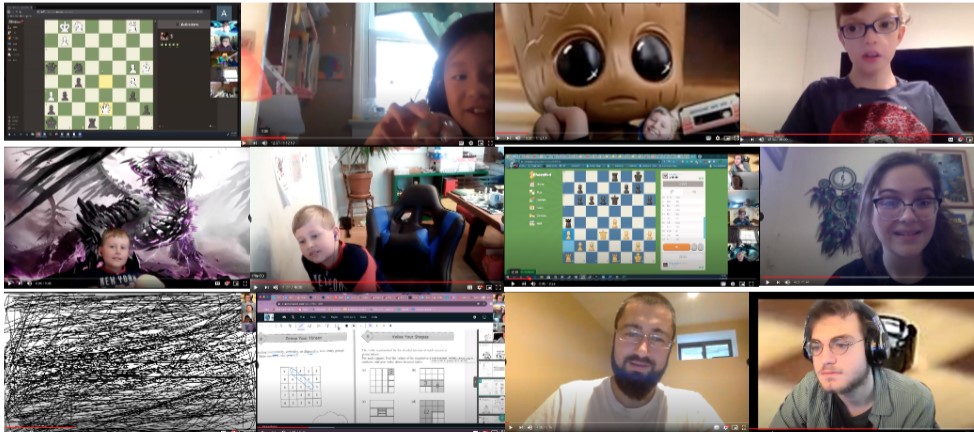 Although the absence of dodgeball was mentioned on occasion, there were other non-chess activities that included old favorites like Math with Yevgeniy and Allie; Art with Erica, as well as new opportunities such Mind Games with Roman and Theatre class with Alexis.





Campers in Theatre class worked on improvisation, character creation and story writing while building a world of superheroes and supervillains. The winners in the Theatre class were Tobby and Zayd. Yevgeniy described his campers in Math class as fabulous students, noting with admiration the speed with which their minds worked. The winners in Math were Anthony, Justin, Theodore and Drew. Roman described the Mind Games class as extremely enjoyable to teach, as campers not only competed to solve riddles but to create and present their own. The winners for Mind Games were Drew, Sasha and Anderson. Anahit and Aiden were the winners for Art Class.
Campers and coaches alike had a thoroughly enjoyable first week and it is great to see so many familiar names registered to continue. Looking forward to a great summer!